Warning
Cookies are used on this site to provide the best user experience. If you continue, we assume that you agree to receive cookies from this site.
What is a Shipping Label and How does it work with a CS-Cart platform?
October 20th, 2020
Shippings are an essential part of e-commerce logistics. Successful delivery is one of the reasons why people purchase products in the web store again and again. All web shop owners puzzle over the cost-efficient shipping process. It's a great bargain when you manage to establish the process of fast and cheap delivery in your e-store. Shipping labels help to take the hassle out of the shipment.
What is a Shipping Label?
Shipping labels display the key information for a carrier to transport a package from their start destination (your warehouse) to its end destination (the customer's hands).
The key information includes:
postal code,
country,
tracking code,
date,
package quantity (the weight, address, validation, and ship street, city and state (area)).
Shipping labels can also specify the contents, particularly if they're for international shipments.
Labels also include information relating to the method of shipping (e.g. Express, Standard, etc.) for the carrier to ensure the service that was paid for is provided.
There are international standards for creating shipping labels but all carriers have their own templates for creating these stickers. A new label is created for each package and it contains the unique code information.
How does it work?
The detailed information about the sendler, the receiver and the parcel is displayed on a little sticker that glued on the box or the parcel. That makes it impossible to lost the parcel and provide a bad delivery service.
Thanks to the shipping labels the sendler and the receiver can track your parcel at various points along its journey, so you know where your parcel is at all times, giving yourself and the recipient peace of mind.
Parcel tracking will begin once the parcel is scanned upon collection, drivers with a handheld terminal will scan the item immediately. Other parcels may only be shown as collected once scanned at the courier depot.
The Parts of a Shipping Label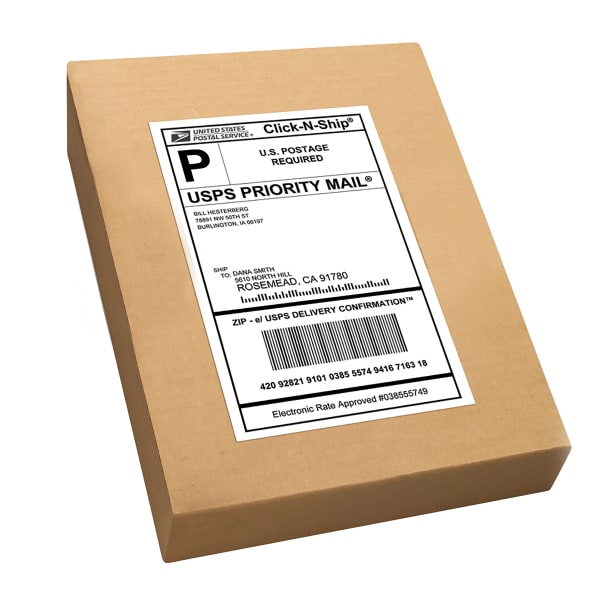 Return Address Section
Pretty important in ecommerce, the address of a merchant or third-party logistics provider(someone that ships orders for a merchant) is listed here in case an order must be returned. All carriers, whether they call it a return address or not, will include the sender's address.
Destination Address
The destination address gives the information about where the package should be delivered. The entire delivery address is not essential, but very important. Having the ZIP code is especially crucial to make sure that your package is routed properly.
Shipping Date
This is the date the package begins its travel through the delivery process. Although the address and tracking information is vital, the shipping date provides another source of data for delivery services to reference at a glance. Along with the shipping class, the shipping date helps mail carriers confirm that the package is traveling on time.
The weight of the package
Package weight is used to calculate the total cost of the delivery process. While being transported, packages are evenly distributed by weight and size to ensure that trucks and containers are balanced properly. Inaccurately weighed parcels can result in damaged shipments and additional charges.
Shipping Class
The shipping priority for the package determines the shipping speed. The names of these classes can vary among delivery services. Every shipping provider offers several levels of delivery services and it's essential to examine all of the options they have available to see what suits you best taking in consideration your budget and nessecaty.
Tracking Number and Barcode
A tracking number is used to track the package movements as it is being transported. When a tracking barcode is scanned by a delivery service, it connects with their tracking system to note that the package is moving as scheduled. However, there are unique tracking codes that are used by each delivery service.
Optional and Miscellaneous Sections
Other pieces of information like shipping costs, proprietary barcodes, postal barcodes and more can also be included on some shipping labels. This information changes among different shipping providers.
How to create the shipping label?
You can print shipping labels directly on the carrier's website. However, that will take extra time as you will need to manually enter the addresses, the order's weight/size, etc.
Shipping labels are generally created during order processing. Carriers have specific requirements for their shipping labels. It is not possible to create your own template or fill out a label by hand. To create a shipping label you must follow carrier requirements.
You can either:
visit your local post office and pay for a label there;
arrange the label yourself.
When you buy labels at the post office, you're actually purchasing postage at retail rates which are the most expensive pricing tier for shipping labels.
Arranging your own shipping labels has more pluses, including discounts on postage and scheduling package pickups instead of having to wait at the post office. There are even ways to automate the process to minimize manual input as much as possible.
What do you need to print shipping labels?
If you want to print shipping labels at your own office or at home, you can do it on printers. There are two main options: a standard inkjet/laser printer, or a thermal label printer that doesn't require ink.
Inkjet Or Laser Printers:
It's highly recommended not to use inkjet printer. They will generally work well if you only print a small amount of labels a month. However, be careful to ensure everything on the page is clear and sharp, and that the ink has not smudged.
In case you need to print more labels a month, pay attention to the fact that printer ink is expensive, and this option can cost a fortune.
Take into considerationthat your packages could be exposed to rain as well as handled with little care. This means normal printing paper could become damaged, making the label unreadable. Here you should think about how to protect your shipping labels and make them waterproof and abrasion resistant. A high-quality adhesive labels with a proper label printer can solve this problem.
Laser printers will produce quality labels with higher precision than inkjet printers, especially using specialized parcel labels. But this can be a very costly option with expensive label sheets and toner cartridges that need replacing. Again, this isn't a great option if you print a moderate amount of labels each month.
Thermal Label Printers:
Thermal label printers are specially designed for label printing. They don't need any extra supplies like ink or toner, expect the rolls of labels. The printers work by creating shapes on the paper using heat, enabling accurate, long-lasting labels.
However, they are pricey appliences. However, these gadgets are good to invest in when you begin to print a significant amount of labels and the cost of supplies for the above options is getting too much.
How to apply the shipping labels to the parcel?
It seems an easy question for the experienced sendlers, but it can be an issue for the fresh dispatchers.
The main rules are
Shipping labels must always be applied on the outside of the package;
The shipping label should be easy scanned;
Secure the label and avoid placing it on the box seams or tape;
Avoid the edges on rectangles;
Put the label on the top side of the box if you have liquid.
Some sendler could have a question where to put the label: on the top of the box or the side of the box? The label goes on any flat surface on the box. It doesn't really matter whether you put it: top or side. But don't put it on the bottom of the box.
What shipping labels add-ons you can install on your CS-Cart store?
We can create any Shipping Labels add-on you need. Contact us.
Comments
No posts found
New post